Caring for your outdoor workers
SunSibility are happy to make up sun protective designs to be worn by your employees / students and or customers / members. 
What are the benefits to your company ?
The UV protective clothing demonstrates your concern & can be designed incorporating company, colours, name & or logo in vinyl print and embroidery to remain uniformed.
There is a reduced risk to those working outdoors who could potentially suffer effects from long term sun exposure.
A healthier, happier and better informed workforce / school
Fewer absence days through sunburn or even sun stroke.
These apply to all outdoor workers and don't forget we do a fantastic range of suncreams which should be applied regularly throughout the day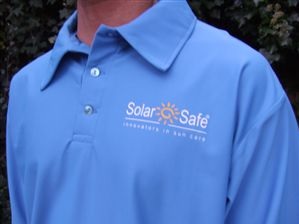 All colours are available and we can always order in your company colours on request.

If you have any special requests or for further information contact Angeli direct

Branded Sun Protective Umbrellas also available ( minimum order 12 )

You may wish to choose out of our range or may wish to use our design service to achieve exactly what you want. 

Do get in touch